Brite offers a solution for digital payments (deposits and withdrawals), as well as automatic account registration including KYC – "Know Your Customer", called Brite Play.

The Brite Play product allows the user to perform a deposit and instantly gain access to the funds in the user account at the merchant. It combines the ease of use of the AIS service, KYC information for account registration and instant transfers to give the user a seamless experience, specifically well suited for online gaming.

When an end-user makes their first deposit, an account is created automatically by the merchant from the KYC information shared by Brite. This removes any need for lengthy manual registration forms. In the pure Play-setup, Brite is the only method through which the user can sign up, deposit and log in, as well as withdraw through.
High level overview and operations used for Brite Play
The diagram shows the different parts that are required to create a deposit towards Brite. A deposit requires a series of backend API calls to be performed behind the scenes, offering a frictionless user experience while we handle the rest!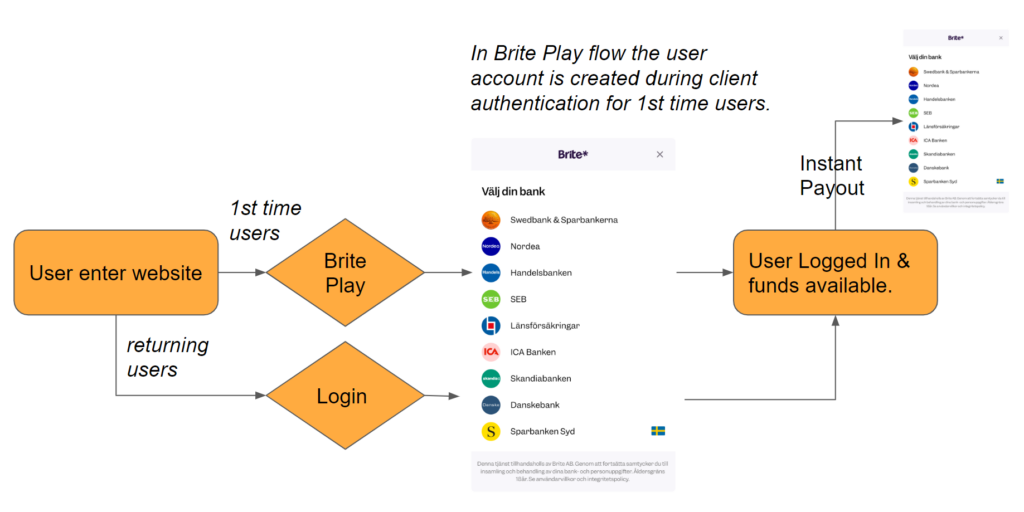 Brite Play Detailed Flow
The following API calls are referenced here: